USCOM BP+ Professional Central Blood Pressure Monitor
The Uscom BP+ is the world's first standalone Professional Central Blood Pressure Monitor. In under 60 seconds, Uscom BP+ performs A&D precision upper arm cuff blood pressure measurement and Uscom's patented Supra-systolic non-invasive aortic central blood pressure measurement (cBP). Saved measurements contain 10 second high resolution pulse pressure rhythm strips and 22 parameters. The Uscom BP+ displays values previously only available with invasive measurements, recorded with a familiar upper arm BP cuff and the ease of a single button press.
Product Brochure & Manual
Related Video
ZlyXRc8GjqA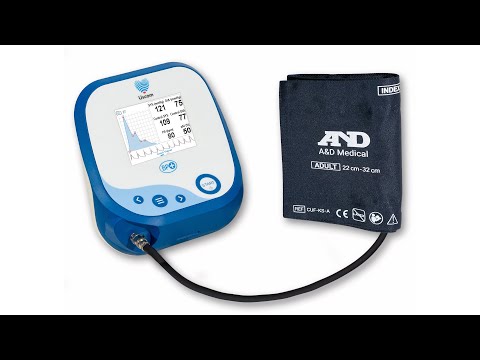 USCOM BP+ Professional Central Blood Pressure Monitor
Features
Dual brachial and non-invasive central aortic
Detailed pulse pressure rhythm strips
Pulse pressure feature points
Large graphic LCD display with backlight
Removeable measurement storage for 10,000+ measurements
Durable and chemical resistant body
Clock, Time and Date stamp
24 months warranty on this device
Brachial cuff measurements (SYS, DIA, MAP, PR, PP)
Central pressure measurements (cSYS, cDIA, cMAP, cPP)
PWA measurements (sAI, sPR, pPX, cPX, sPRV, sPPV, sRWTTf, sRWTTf, sRWTTp, sSEP, sdP/dt, cFF, cMPP, PPA)
Adjustable inflation pressure (AUTO,/100/120/140/160/180/200/240/280)
Professional cuff and 5 cuff sizes are available for use
Additional Information
The Uscom BP+ is a Supra-systolic central blood pressure (cBP) monitoring device which non-invasively measure blood pressure and blood pressure waveforms at the heart, as well as in the arm; information only previously available using invasive cardiac catheterization. Uscom BP+ Pulse Wave Analysis (PWA) of 10 seconds of central, brachial and SupraSystolic pulse pressure rhythm strips, yield 22 BP+ parameters (5 basic, 4 central and 13 PWA measures) to provide additional clinically relevant information. The optional Uscom BP+ Reporter application is available to view, store and generate customisable PDF reports. Uscom BP+ uses the latest A&D TM2917 blood pressure monitor that is mercury free and designed for multi-purpose use in hospitals, clinics and research. The TM2917 contains dual pneumatic pumps for reliable, fast and efficient cuff inflation, especially when using the larger adult cuffs.
Model
(scroll right for purchase/enquiry details)
Model
SKU
Size
Unit Price
excluding GST
Action
Large Arm Cuff Size 32-45cm
UA-CUFBOXLA-C
32-45cm
$30.00
Add to cart
Accessories & Options
(scroll right for purchase/enquiry details)
| | | | | |
| --- | --- | --- | --- | --- |
| Extra Small Arm Cuff Size 12-16cm | UA-CUF-KS-SS-EC | 12-16cm | $40.00 | Add to cart |
| Small Arm Cuff Size 16-24cm | UA-CUF-KS-SA-EC | 16-24cm | $40.00 | Enquire |
| Adult Arm Cuff Size 22-32cm | UM-CUF-KS-A | 22-32cm | $40.00 | Enquire |
| Large Arm Cuff Size 31-45cm | UM-CUF-KS-LA | 31-45cm | $55.00 | Enquire |
| Extra Large Arm Cuff Size 41-50cm | UA-CUF-KS-LL-EC | 41-50cm | $80.00 | Enquire |
Where can I purchase this equipment?

A&D Australiasia has a nation wide dealer network with outlets in all capital cities and in most regional locations. Call Toll Free 1800 011 112 for the location of your nearest dealer.

My product requires service/repair, how do I arrange this?

Contact the A&D Australiasia Service department on (08) 8301 8100 or at [email protected] and they can advise on and coordinate your service requirement.