UM-102 Mercury Free Sphygmomanometer
The new generation UM-102 auscaltory blood pressure monitor continues to respond to the Mercury-Free Era in blood pressure monitoring. ** To be used in Medical and Health Clinic environments **
Product Brochure & Manual
Related Video
eBFlC4SlUhc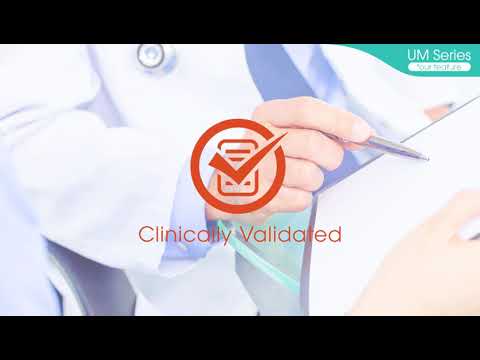 Mercury-Free UM Series
Features
** Not recommended for personal home use **
UM-102 (A-TYPE) has a flat base for stocking multiple units
UM-102 (B-TYPE) is a stand alone unit that can be used with a stand
Auscultatory blood pressure measurement
Digital readout for pulse rate
Cuff holder and grip for carrying
Durable and chemical resistant body
Full ABS housing light weight body
Professional cuff and 5 cuff sizes are available for use
Adjustable display column for easier analysis of result
Easy battery replacement
Additional Information
The UM-102 mercury-free sphygmomanometer continues the new era of professional blood pressure measurement. In 1905, Dr. Nikolai S. Korotkov introduced his theory of blood pressure measurement using the Riva-Rocci mercury monitor. Since then, blood pressure measurement using the mercury column has been reigned as the gold standard of blood pressure measurement, and his method known as the Korotkov method or auscultatory method is used for daily blood pressure monitoring by healthcare professionals worldwide.
Recently, awareness of the issue of environmental conservation has been increasing and the use of mercury has become a worldwide concern. Mercury is a toxic metal that can poison whole communities and remain in the local environment for many years creating serious health risks. Therefore, the banning of mercury is essential in order to maintain a clean and safe environment.
As a leading manufacturer of blood pressure monitors, A&D is responding to the call from the international medical community to ban the use of this toxic metal and has developed a new, highly advanced digital blood pressure monitor. The UM-101 and the new generation UM-102 have been designed to be used as an alternative to the mercury column, while at the same time preserving the local environment and creating an easy-to-use product for hospital personnel.
Accessories & Options
(scroll right for purchase/enquiry details)
| | | | | |
| --- | --- | --- | --- | --- |
| UM-102 Stand to suit type B | 09031600-1 | For use with UM-102B | $255.00 | Enquire |
Where can I purchase this equipment?

A&D Australiasia has a nation wide dealer network with outlets in all capital cities and in most regional locations. Call Toll Free 1800 011 112 for the location of your nearest dealer.

My product requires service/repair, how do I arrange this?

Contact the A&D Australiasia Service department on (08) 8301 8100 or at [email protected] and they can advise on and coordinate your service requirement.